ETC16 will take place in the old courtyard building of KTH main campus.
KTH is the largest and oldest technical university in Sweden. No less than one-third of Sweden's technical research and engineering education capacity at university level is provided by KTH. Education and research span from natural sciences to all branches of engineering and includes Architecture, Industrial Management, and Urban Planning. There is a total of 13,400 first and second level students and almost 1,900 doctoral students. KTH has 4,900 employees.

Main local: F1 (Alfvénsalen)
Lindstedtsvägen 22
114 28 Stockholm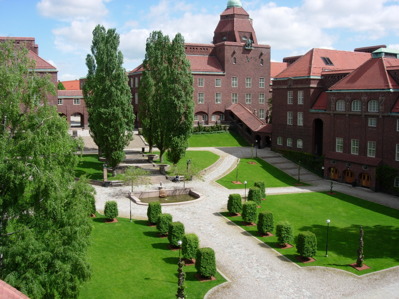 GPS
WGS84: N 59° 20.8396', E 18° 4.3014'
Decimal: 59.3473, 18.0717
A number of buses will take you to Östra Station including the city buses no. 4, 44 and 73. From there you have about 5 minutes walking distance.
The Red line (towards Mörby centrum), you get off at station Tekniska Högskolan. From there you have to about 5 minutes walking distance.
Getting here by car is fairly easy.

From the South on E4/E20:
E20/E4 - exit at Norrtull (follow E20) - Roslagstull (follow E20) - Valhallavägen (follow E20) - after passing Östra Station and KTH, make a U-turn on Valhallavägen - turn right onto Drottning Kristinas väg.
Drive Drottning Kristinas väg past the restaurant "Syster & Bror". Turn right on Teknikringen just before the Red Cross hospital. Continue until you see a sign Teknikringen 8, 12, 14, where you turn left and locate a suitable parking place. Remember to pay for the parking! From there you walk to Lindstedtsvägen 22. (approximately 400m)

From the North on E4:
Exit at Norrtull and follow the directions above.
From the North on E18
Go towards Roslagstull (E20) and follow the directions above.

KTH
SE-100 44, Stockholm, Sweden
+46 8 790 60 00

Shervin Bagheri, KTH Mechanics | e-mail: etc16@mech.kth.se
Dan Henningson, KTH Mechanics